These examples should be a warning to buyers that accept building reports from sellers and/or agents.
Learn how a costly home sellers report missed and understated faults in a building inspection report to help achieve a sale for the agent. QBIS.
Columns rusting significantly.
Columns supporting a three level 10 year old house were grossly understated in a report supplied to a prospective buyer. It was suggested that all they required was wire brushing and anti-rust treatment. The degree of rust was considerably understated  in their report. The columns required replacing.
Danger of columns supporting a three level building.
Column strength is dependent upon their wall thickness. Column wall thickness has been significantly compromised due to degree of rust caused by constant flow and ponding of water around bases of supports since the house was built.
Rusting columns required more than wire brushing and treatment as recommended in the sellers report!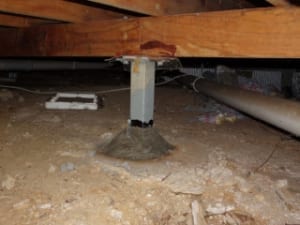 Additional concrete to be fitted over the rusted columns was recommended by the sellers building inspector.
Wrong! This traps moisture that accelerates rusting. Badly rusted columns needed to be replaced.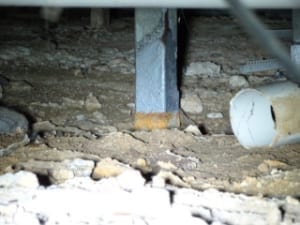 Further rust to supporting column, after anti-rust was applied.
The scource of the problem has not been addressed. These columns will continue to rust unless the drainage and pooling of water is stopped.
Why rusting columns are a serious fault.
Columns have a wall thickness of about 2.5mm.
Severe rust was diminishing their structural integrity, quickly and considerably.
Each column needed to be replaced manually and at a considerable cost.
Some fractured footings (caused by rusting columns) also needed to be replaced.
The correct advice was not given in the sellers inspection report.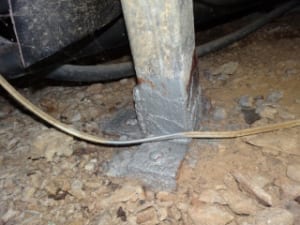 Potentially dangerous wiring!
Unsecured electrical wire near base of a steel column. This badly fitted wiring with its potential danger was not identified in the sellers report. Some would think this potential danger would be protected by a safety switch, not necessarily and only if they are functioning correctly.
Other problems not mentioned in the sellers report were:
Extensive termite evidence to many parts of sub-floor.
Drainage issues and ponding of water.
Insufficient clearances between timber bearers and the soil.
Non compliant issues.
Movement of numerous supporting columns causing undulation of floor with doors requiring refitting.
Insufficient flashings around openings.
"Free" sellers report, I don't think so!