Building report understated-Kedron.
Carried out by Peter Weddell, owner/operator of Qld Home Buyers Inspection Service.
Examples how it can be costly to accept a building report from a seller and/or agent before an auction.
Problems identified

in Peter's building inspection report differed considerably to a report supplied by the agent & seller to a prospective buyer:
Numerous items in the vendors report were either not discovered by their inspector or significantly understated to help the sale go through!
Don't be conned into thinking a free report given to you by the SELLING AGENT is going to help you in making one of the most important (and potentially costly) decisions in your life!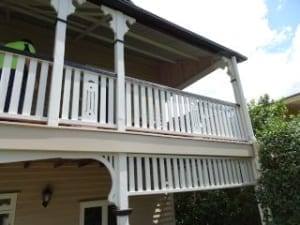 Extensive rot to timber of this veranda, making it potentially dangerous.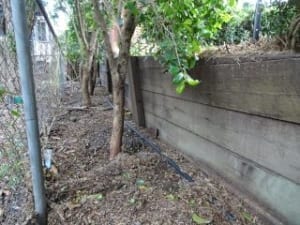 Rotting and leaning timer retaining walls, require replacing, not mentioned in vendors report!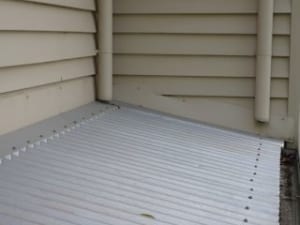 Insufficient flashing's to lower roof where attached to external walls of the house. Flashing must extend up behind the weatherboards above. Their inspector did not gain access to the roof exterior.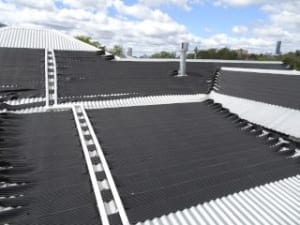 Rubber pool water heater tubing causing premature rusting to relatively new roof sheeting, not mentioned in vendors report!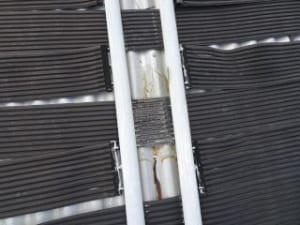 Closeup of premature rusting to roof sheeting.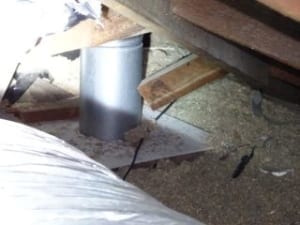 Accumulation of insulation near the fireplace flue pipe also covering some electrical down-light fittings. Potentially a fire hazard, not mentioned in the vendors report!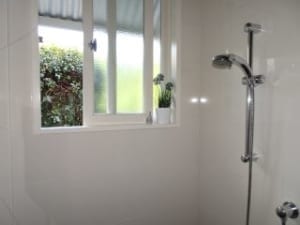 Close proximity of shower outlet to window within the shower, no mention in the vendors report. This will allow rot to occur to the window frame and possibly the wall if left unattended and not being advised by the inspector.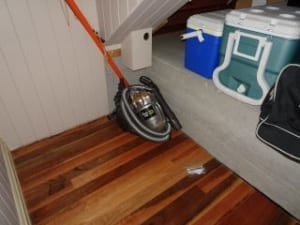 Seepage and rising damp to split level section of the slab indicated by high moisture meter readings. Not mentioned in vendors report!
Seepage and rising damp can cause deterioration, attract termites and cause health problems with inhabitants over the long term if not advised!
Building report understated-Kedron.
Unfortunately for an unsuspecting bidder at an auction relying upon the vendors understated inspection reports. These problems would add unexpected, considerable cost to the purchase price of the house.
For independent Building Inspections Brisbane in all suburbs, Qld Home Buyers Inspection Service. qbis.com.au