Learn about alternatives to using particleboard as bathroom flooring to avoid damage from leaking.
Bathroom leak causing floor damage and how to avoid. QBIS.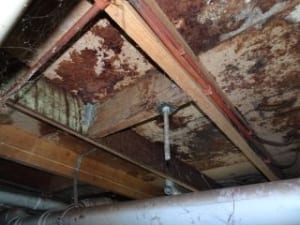 Bathroom leak causing floor damage. Why the use of particleboard as flooring below a bathroom should be outlawed. 
Considerable damage to particleboard floor from a leaking bathroom.
Particle-board flooring will rot more rapidly than timber.
Alternative
Compressed fibro sheeting (not containing Asbestos) is a far more suitable and long term durable product that will not rot!
This post will hopefully help educate people into considering using a more suitable product, in their construction or renovation of a bathroom, ensuite, toilet, laundry.
For independent Building Inspections Brisbane in all suburbs, Qld Home Buyers Inspection Service. qbis.com.au