Roof design fault that will cause premature rusting of sheeting.
Bad design for a roof. QBIS.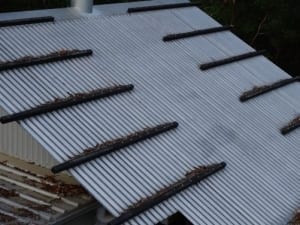 This is one of the most stupid ideas for a roof I have come across, due to the method of construction being back the front.
Bad design for a roof:
Roof sheets overhanging the gable ends are supported from framing above, not from underneath.
This is causing accumulation of debris, leaking of the roof and rusting to the roof sheeting.
A competent builder would have questioned the designer and recommended a more practical solution.
Some builders don't realise they are the ones that must guarantee and rectify the problem regardless of a design fault.
Recommended rectification:
Remove roof sheeting.
Reconstruct with proper support below the roof sheeting.
This roof construction idea would be costly to rectify.
Some material that may be of use:
QBCC Booklet on Acceptable Tolerances
For independent Building Inspections Brisbane in all suburbs, Qld Home Buyers Inspection Service. qbis.com.au