Learn where Asbestos was used in buildings and concerns about Asbestos 
Asbestos in different parts of buildings their uses and concerns. QBIS.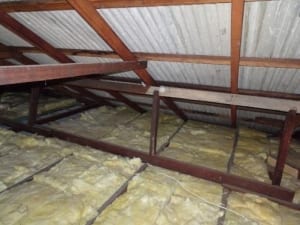 Asbestos products were a readily available

and popular building product used from the late 1930's right through to the early 1990's.
The greater majority of houses built within those time frames had varying amounts of Asbestos in the materials used.
In the 1940's, 50's, 60's some had internal and external wall cladding and sometimes the roof as well with Asbestos content.
How to determine if any products contain Asbestos.
Samples must be taken from different locations of a building.
Samples are sent to a laboratory for examination.
Test results are generally available in a few days.
A report is drafted with positive or negative results and forwarded to the client.
Identification of the samples must be done in a laboratory.
Non-destructive alternate method for determining if any products contain Asbestos.
Use of a MicroPhazir hand held device developed by Thermo Scientific Corporation.
Tests and results are available onsite and within seconds.
No damage to areas tested (unless a small scraping is required).
Report is usually issued on the same day.
A sample is also taken and sent to a recognised laboratory.
A report is drafted with the positive or negative test results and sent onto the prospective property buyer.
All tests are carried by an experienced operator.
Having Asbestos products removed by licensed contractors.
Request the contractors licence number and check with the QBCC to make sure it is current, before employing them.
Make sure the contractor is fully insured in the removal of Asbestos materials.
Removal must also be carried out by licensed contractors and disposed of in accordance with you local Council and Government requirements. It is certainly not advisable to do it yourself.
Handling and removal of any Asbestos materials can be a danger to you and your family, it is not worth the risk!
Asbestos uses and concerns. Asbestos and insurance companies.
Be aware that your insurance company may not cover you against problems with Asbestos roofs and/or cladding.
Check with your insurer before committing to a contract, so you know where you stand.
Asbestos uses and concerns.
Inform any tradespeople of the existence of Asbestos and location that you may be aware of, before allowing any work and/or alterations to be carried out on your building.

If unsure

, have any suspect areas checked by a professional before allowing any work to be carried out.
Related information on Asbestos that may be of use: