Asbestos in buildings.
Just a few examples of materials that contained Asbestos in buildings around Brisbane that were commonly used in the building industry until the mid 1990's.
Courtesy of Peter Weddell owner/operator of Building Inspections Brisbane and Qld Home Buyers Inspection Service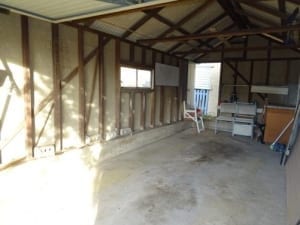 Corrugated and flat fibro sheeting attached to roof and walls of this garage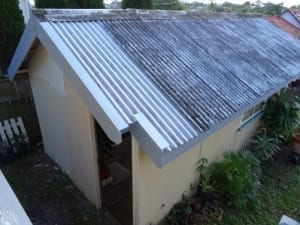 Corrugated fibro sheeting to a garage roof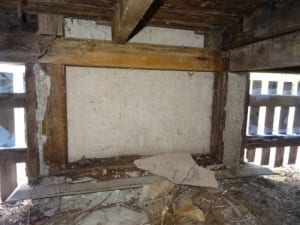 Flat fibro sheeting fitted to lower wall of a laundry.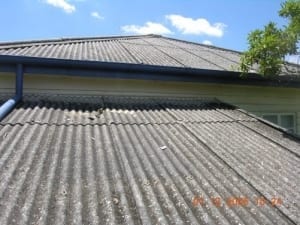 Corrugated fibro roof sheeting to roof of a house.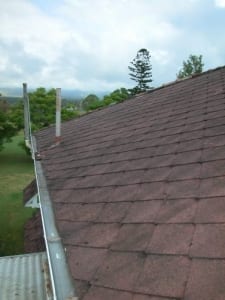 Small fibro panels used as roof cladding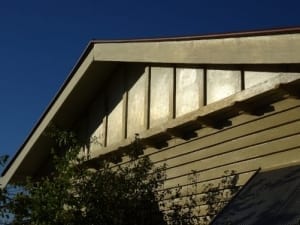 Flat fibro sheeting to gable end of a Post War house
Be aware:

Asbestos was a commonly used material in many building products from the 1930's up until the mid-1990's. Its importation and use in Australia was totally banned in December 31st 2003.
As a building product it was relatively cheap and easy to install, durable and long lasting, this is what made it popular to use in the construction industry.
Form of product: Flat sheeting (AC sheet), corrugated, fibre (insulation)
Some common building products with Asbestos content were:
Roof sheeting (corrugated & flat)
Fencing (corrugated)
External wall cladding (flat sheeting)
Eaves & gables ends
Sub-floor areas
Internal ceiling and wall linings (in particular wet areas and sometimes enclosures)
Linoleum, carpet and underlay
Insulation in roofs
Around plumbing pipes and fittings  (lagging)
Stoves and hot water systems
Houses built in the post war period 1945 through to the mid 1990's are most likely to have some Asbestos products in their construction, with some having more than others.
Asbestos in buildings
Important notes:
Asbestos products must be handled and disposed of in an appropriate manner also in accordance with your local Authority.
When in doubt have it checked by an expert before having it removed, altered or maintained.

Be aware that some insurance companies do not insure Asbestos roofs and possibly wall cladding's, check with your insurer.
For more information:
Search state and federal Government sites for their requirements regarding risks in handling and required disposal of Asbestos. Also check my free information download files for extensive information.
Other related material:
Queensland worksafe injury-prevention-safety-asbestos
For independent Building Inspections Brisbane in all suburbs, Qld Home Buyers Inspection Service. qbis.com.au