Damage to roof from termites.
Termite damage to roof. QBIS.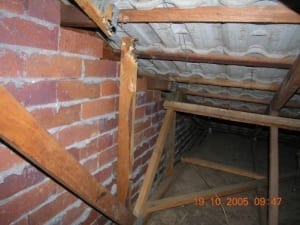 Although this photo was taken in 2005 it is still relevant.
Importance of access:
This is what an inspector will miss if they are not prepared to get in the roof.
This can be very costly inspection for a potential buyer!
Insist your inspector takes photos of problems also for proof of access!
Many inspectors do not gain access the roof interior past the access hole, if it has insulation.
Worth knowing: Insulation is often fitted within a roof to cover termite evidence or damage
Termite damage to roof. 

Related information that may help you:
QBCC Termite Management Systems advisory notes for Homeowners
Be aware:
Builders build houses, they do not treat houses for termites. Don't be conned!
Pest inspections area a specialized field that requires an experienced inspector,

not a builder!

Make sure your pest inspection is carried by an experienced, licensed person.
Most importantly: someone that currently operates a pest control business.
I don't claim to be an expert in termite detection.
But here are some examples of what I have found in roofs, other inspectors have missed.
For independent Building Inspections Brisbane in all suburbs, Qld Home Buyers Inspection Service. qbis.com.au