Shower/bath not properly installed,

in Camp Hill, Eastern suburb of Brisbane
by Peter Weddell, owner/operator of Qld Home Buyers Inspection Service: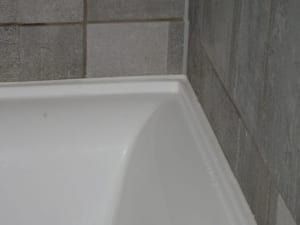 When installing a shower outlet above a bath, the wall tiles must extend into the side and rear lips to avoid seepage and rot to the walls and floor.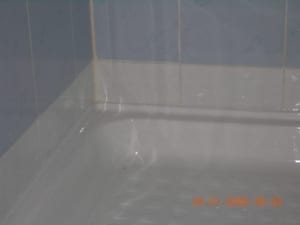 Both the shower base and bath in these photos have not been properly installed. The shower base and bath must be recessed into the walls, the wall tiles must extend into lips of both sides.
This photo shows leaking to the floor below. Although leaking has not caused significant rot at this stage the bath above must be removed and refitted correctly.
Rectification:
Both the bath and shower base would have to be removed then refitted and recessed into the walls to allow wall sheeting and tiles to extend into back and side lips.
Shower/bath not properly installed
Important notes:
Improper shower-bath installation, is usually caused by a DIY or tradespeople that lack experience.
It pays dividends to research anyone you are employing to carry out costly renovations, before employing them.
Otherwise you can be up for the cost of doing the renovation twice!
For independent Building Inspections Brisbane in all suburbs, Qld Home Buyers Inspection Service. qbis.com.au