Roof and defects
Roof with defects. QBIS.
Problem:
Unsuitable low profile wall sheeting has been used as roof sheeting. The roof sheeting has also been secured through lower sections and not the ribs, this has caused consistent leaking around the screws. An undersized box gutter has been formed, this has overflowed into the living area below.
Rectification:
I would recommend replacing any low profile roof sheeting with sheeting that has a reasonable depth to its profile. This will help allow the water to escape to the gutters in a heavy downpour before leaking where the sheets overlap each other. Low profile sheets are also more likely to leak when rain water is obstructed by hail.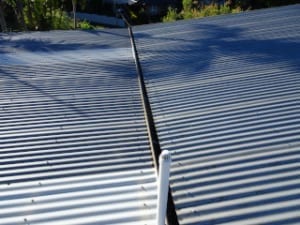 Rectification:
It would also be advisable to fit flashing from underneath the roof tiles (or in this case, sheeting) and over a box gutter then onto the roof sheeting below. This will eliminate the need for the box gutter and avoid further overflowing.
Roof with defects.
Important notes.
Severe weather conditions encountered in Brisbane are often underestimated by owners, builders and designers.
The majority of cases can easily be avoided with proper design and consideration for extreme weather conditions.
Also by using the correct product for the job.
For independent Building Inspections Brisbane in all suburbs, Qld Home Buyers Inspection Service. qbis.com.au