Roof truss problems identified in a recent building inspection carried out in the Ferny Grove area, a       Northern suburb of Brisbane, by Peter Weddell, owner/operator of Qld Home Buyers Inspection Service.
These roof trusses are sagging considerably also with dislodged gang-nails (securings to joints between the web member and the top chord of the truss). This is a very serious problem and requires immediate attention.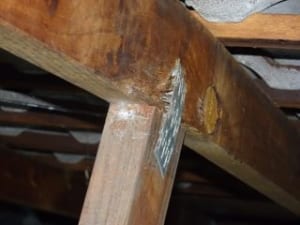 This photo shows a close up of the gang-nail being dislodged from junction of web member and the top chord of a roof truss. Dislodging is possibly from inadequate securing of the gang-nail when the roof truss was constructed. Or from movement of the roof structure over the years caused by differing weather conditions with movement of the roof structure.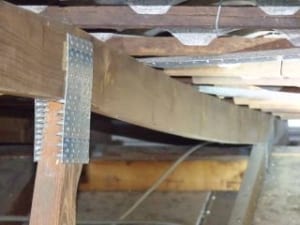 This photo shows the degree of the top roof truss chord sagging also other dislodged gang nails to both sides of the roof truss.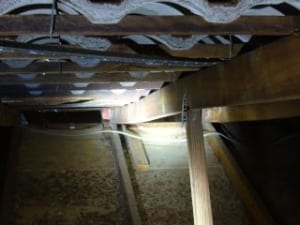 Another photo from a different perspective showing almost full length of the truss. Indicating degree and severity of the sagging also dislodged gang-nails.
Although roof truss problems such as this are rare.
This roof structure is extremely dangerous in its current state and could collapse at any time. It requires immediate urgent attention! 
The most economical way to rectify these roof truss problems would be to reinforce the joints and replace the roof tiles with metal roof sheeting. This would take a huge load off the roof structure and alleviate the necessity of restructuring the roof. Then secure the roof for tying down to avoid possible uplift in a storm.
Roof trusses are designed to move to certain extent in normal conditions, this will not cause any concern. It is consistent extreme weather conditions that can cause problems to the roof structure.
Although it is very important to have your roof periodically checked by a professional. For any signs of problems that can be rectified before they become serious and costly to fix. Beware of companies that do free inspections in anticipation of trying to sell you their product, such as roof tile coating.
Qld Home Buyers Inspection Service, for your Building Inspections Brisbane, all suburbs