Retaining wall defect,

in Ferny Hills, a Northern suburb of Brisbane,

Retaining wall defect. Identified by Peter Weddell, owner/operator of Qld Home Buyers Inspection Service.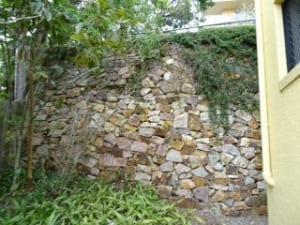 Important information:
Significant movement of a boundary retaining wall.
This major defect was not mentioned in the Body Corporate Records.
Tenants and owners were not aware of the problem.
Impossible access for machinery
Removal and replacement of the retaining wall, relying upon manual labour.
Height and length of the wall, divide the cost by six unit owners and you still end up with a very costly problem to rectify.
Another client saved from costly replacement of retaining walls, by Peter Weddell!
Retaining walls over 1 metre in height must be:
Engineer designed
Council approved
Reinforced.
Have drains fitted.
Waterproofed and tanked, if used within a habitable area.
Some information that may be of use:
Qld Government on Building approval for retaining walls
For independent Building Inspections Brisbane in all suburbs, Qld Home Buyers Inspection Service. qbis.com.au