Movement of wall in apartment roof,

in Wavell Heights, a Northern suburb of Brisbane.

Movement of wall in apartment roof. Identified in a building inspection carried out by Peter Weddell, owner/operator of Qld Home Buyers Inspection Service.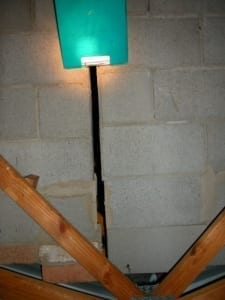 Considerable movement of block walls between units of a relatively newly built complex.
Important notes.
The gap could not be observed from the roof access hole and would not have been picked up by anyone not prepared to climb fully into the roof area.
Being larger than usual the gap has compromised the fire rated wall between the units.
This would require rectification to satisfy the Building Code requirements
Your insurer may not cover you in case of a fire and damage it may cause to other parts of the building.
Related information: 
Qld Govt QBCC Homeowner Guide to Subsidence
For independent Building Inspections Brisbane in all suburbs, Qld Home Buyers Inspection Service. qbis.com.au