Damage to roof from leaking.
Leaking roof causing damage. QBIS.
The majority of building owners do not realize that almost every roof of any type of building will leak in places at some stages.
This often occurs from differing weather conditions. In most cases the rain water evaporates before it causes any long term damage, this one is different!
Consistent leaking from a roof is what causes problems and must be addressed ASAP.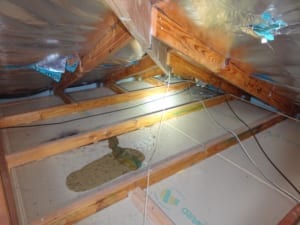 Current leaking from the roof:
Leaking from a hip area, this is generally an unusual location for leaking to occur. Valleys, skylights, vent pipes and split level sections of a roof have a much higher probability of leaking occurring.
Leaking roof causing damage:
Here are some examples of a roof leaking with no obvious point of entry location after checking the roof exterior.
Water can travel from different areas of the roof making it difficult or impossible to determine the exact point of water entry, to effectively rectify the problem.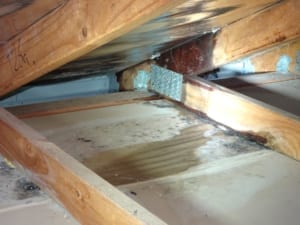 Rot to timber and damage to ceiling:
Damage to this ceiling lining and rot to part of the roof truss, caused by inadequate roof flashings.
Some information that may be of use
Roof Technical notes
Qld Government Technical notes on roofs
For independent Building Inspections Brisbane in all suburbs, Qld Home Buyers Inspection Service. qbis.com.au