Retaining wall that was defective on a new property.
Defective retaining wall, identified by Peter Weddell, owner/operator of Qld Home Buyers Inspection Service.

Capping secured to the blocks with glue !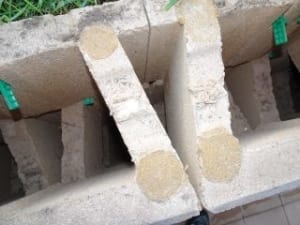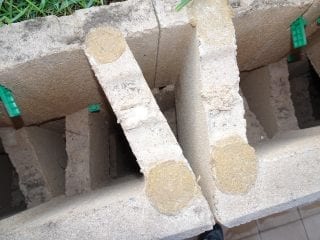 Close-up showing lack of reinforcing and no core fill with concrete to reinforce the wall and avoid movement.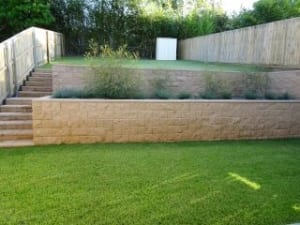 Builder & developers trick:
They often terrace the land to avoid the addition cost of constructing a retaining wall over 1 metre in height. This method of construction would not require Council approval also the need to be designed by a structural engineer.
Inadequate construction:
These new retaining walls were built without reinforcing and concrete core filling. The blocks have been held together with plastic clips and glue!
Defective retaining wall, with p
ositive result:
The builder was made aware of the problem, before the buyers proceeded with the purchase. It was rectified by the builder at his expense, not the buyer.
This shows the importance of a detailed report saving a buyer a substantial amount in rectification costs.
Relevent information regarding retaining walls
Qld Government Planning and building of retaining walls
For independent Building Inspections Brisbane in all suburbs, Qld Home Buyers Inspection Service. qbis.com.au