Defects with verandahs and decks.
Deck and verandah defects. Identified by Peter Weddell, owner/operator of Qld Home Buyers Inspection Service.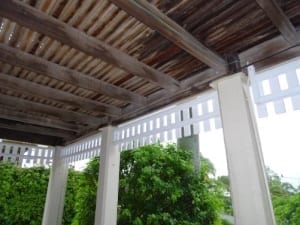 Here are some examples of Queenslander style houses with verandah's built using a similar method of construction to a deck that collapsed in recent years, at Ascot, a eastern suburb of Brisbane.
Fault and rectification:
The floor joists are checked into the perimeter bearer and secured with nails.
A cleat attached with bolts through the bearer would have far better long term securing and support.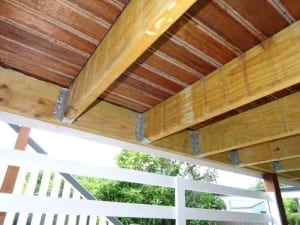 A recently built verandah with the same method of construction, except for metal steel saddles fitted below the floor joists for support. Not a method of support that I would recommend. The joist saddles and nails will rust over time and lose support.
Deck and verandah defects and signs to look for:
Post and/or columns for rot or rust to their bases.
Stairs and landings for rot
Flooring and structure for rot.
Railing securings and rotting of timber.
Bracing condition and securings (this is dependent on height of the structure).
Tip:
If it is an exposed deck, consider constructing a roof above it for protection.
Important note:
A far better method of construction would be to extend the floor joists over top of the bearer for full support, this method is the most commonly used.
The problem with this method would only be if more head clearance is required below the structure.
Related information that may assist you.
Qld Government on planning and building a deck
For independent Building Inspections Brisbane in all suburbs, Qld Home Buyers Inspection Service. qbis.com.au