How a pre-sale building report by QBIS may help increase your chances of a property sale,

considerably!
Identify potential deal breaker problems before listing your property so you have the opportunity of rectifying them or pricing the property accordingly.
Avoid fabricated or overstated problems by the prospective buyer (or their Inspector) to reduce the sale price with overinflated prices on rectification.
Advice on what you can rectify economically or alter (yourself) without requiring Council approval.
Recommendations on preventative maintenance, to avoid potential problems occurring also how to maintain the property for the long-term.
Have the opportunity to remove linings and/or stored items to assess extent of problems and have them rectified or quoted on, more accurately.
Compare problems with similar buildings of its age and type to put problems in perspective.
The report may include the possibility of illegal structures, extensions and or alterations that may require Council approval. This would help you in obtaining the appropriate searches, before listing the property.
Extensive use of photos throughout the report to put problems in perspective and give you a much better understanding.
Help you in producing a portfolio on the house, to pass onto a prospective buyer.
Have access to the Inspector for advice, long after the inspection has been carried out.
A pre-sale report can also benefit home owners that are not intending selling their property. 
By identifying problems, with suggestions on preventative maintenance also advice on how to maintain their property, for the long term. With access to the inspector, help in not getting ripped off by unscrupulous trades-people!
The danger of selling your property without a pre-sale report?
A potential buyer's inspector identifies major problems that could be used as a legitimate reason to terminate a sale.
The buyer negotiates the purchase price down considerably to compensate them for expensive problems they had not allowed for and were not made aware of before signing a contract.
By not having a pre-sale report and being forewarned of any major problems, you cannot put a fair price on the property.
A potential buyer is more likely to speculate on the severity, extent and cost of rectifying major problems when they are concealed and the degree of problem is unknown.
A pre-sale report will help eliminate most of these hurdles by identifying the major problems and (if necessary) suggest having linings removed in any affected areas to allow for more accurate quotes and repairs, before listing the property.
Why use us?
All inspections are carried out by Peter Weddell, owner/operator, solely responsible for the company.
Benefit from his wealth of knowledge and experience gained in all aspects of the building industry since 1966. Full member of the Master builders since 1977. Founding member of the Institute of Building Consultants, 1995.
Fully insured and licensed with the Qld Building Construction Commission
Know you are receiving independent and unbiased advice.
Help with recommendations on the most economical alternatives of rectification.
Advice on extensions and alterations (if necessary).
Accesses all areas, including the roof exterior (where safely and practicable) without being supervised.
Include a comparison gauge to other buildings of its age and type to put problems in perspective.
Have access to the Inspector for advice or guidance, long after the inspection has been carried out (at no extra fee, for over the phone advice).
Produce a report that is 2nd to none from a company that has no vested interest in the sale apart from providing the best possible advice and a report that is tailored to suit your particular property.
Include numerous photos to put problems in perspective also for proof of access (very helpful in the case of interstate owners).
Be confidant in knowing that you would be employing Peter Weddell who is solely responsible for the business and has owned and operated one of the longest serving building inspection services in Queensland. 
CASE STUDY 1.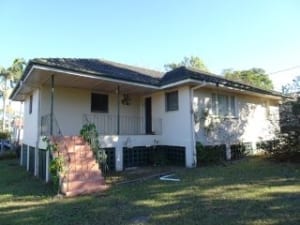 Recent pre-sale building inspection of a house with concrete external and internal walls supported by concrete beams and piers in the southern suburbs for an interstate owner that had purchased this rental property in 2013, without a building inspection (it gets worse)! 
Crack to external concrete wall of the house from pier and footing movement.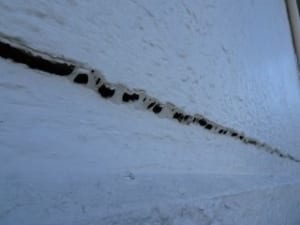 Stretched paint indicating movement has occurred since exterior of the house was painted, this also indicates recent movement also that it has not stopped moving!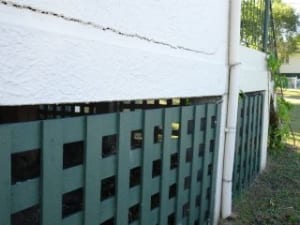 Significant downwards bow to a concrete beam supporting external wall of the house, caused by pier and footing movement.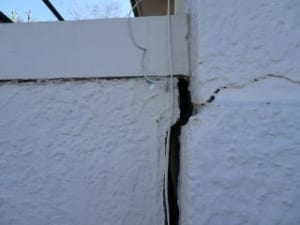 More external wall movement also concrete coming away from corner of the building.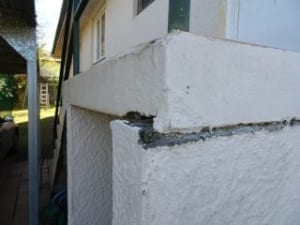 Recent movement of wall supporting concrete stairs and landing.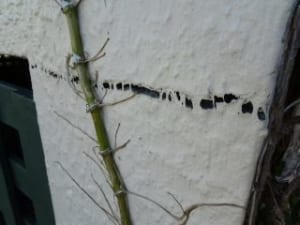 Concrete supporting pier that has moved downwards.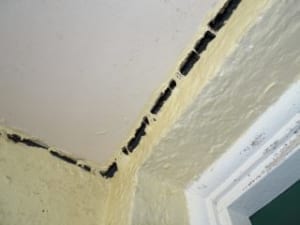 Movement of concrete balcony coming away from external walls of the house.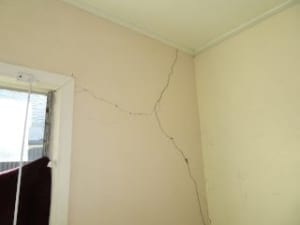 Cracks to internal concrete walls.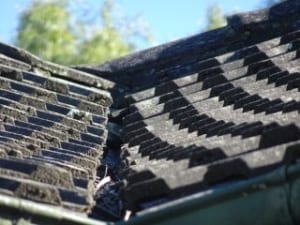 Significance sag to valley of the roof caused by the roof structure being supported off the ceiling structure. Requiring immediate attention to avoid potential collapse. 
Note: The owner was informed by an unscrupulous trades-person (recommended by the rental agent) that it would cost approximately $50,000 just to patch and paint external and internal walls of this house, but this would not include reinforcing the footings (underpinning) to avoid the likelihood of further movement. The owner was also informed it would cost a considerable amount more (but did not indicate a price) to replace the rotting internal walls. With my inspection I found all of the external and internal walls to be constructed with concrete, not a product that would rot!
CASE STUDY 2.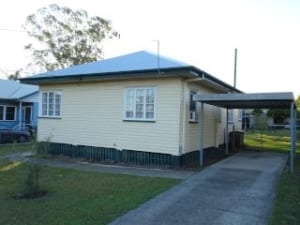 Recently building inspection on a lowset timber house supported by concrete stumps in the eastern suburbs for an interstate owner that wanted to know the true condition of the house, so as to make an informed decision on whether to retain, sell or improve.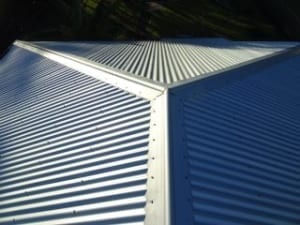 Replacement of galvanised with zincalume roof sheeting on this relatively small house was just under $30,000 without replacing the rusted gutters and no fitting of insulation. If that is not a rip-off what is!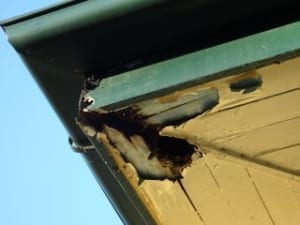 Replacement of rotting sections of the fascia boards and eave lining was not included in the price!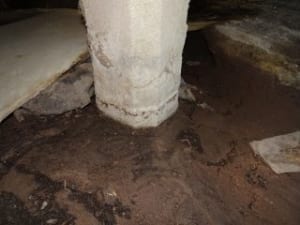 The owner was not aware of a major drainage problem with this property causing movement and deterioration of concrete stumps.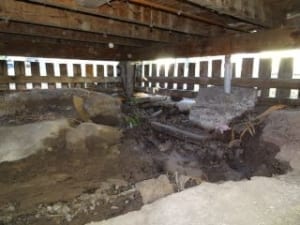 Erosion of soil caused by drainage problems partially undermining the stump footings and part of the sewer.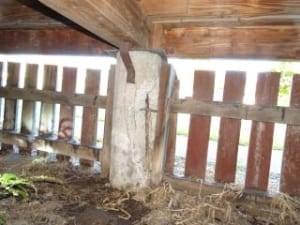 Significant fracturing to majority of the concrete stumps, requiring replacing.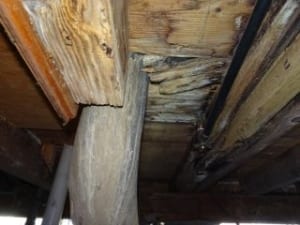 Rot to flooring below the bathroom-toilet also floor joist that has been cut through to accommodate the toilet waste pipe. The owner was not aware of this significant problem.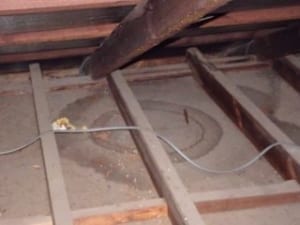 Leaking from the previous roof has cause damage and extensive sagging to the caneite ceiling linings requiring replacing.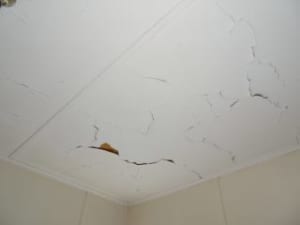 Ceiling paint peeling and sagging from the previous roof leaking.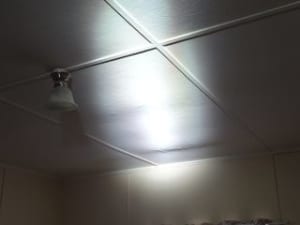 Sagging of internal ceiling linings throughout the house.
Note: The owner was not made aware of these major problems when she bought the house. A pre-sale inspection highlighted all of the problems also significance with a comparison to problems with other buildings of a similar age and type. Armed with a prioritized list of problems also a building inspector she can trust and call upon for advice, she is now unlikely to get ripped off by unscrupulous trades-people!
CASE STUDY 3.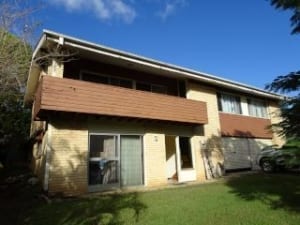 A recent pre-sale building inspection of a two storey brick veneer house in the western suburbs with serious seepage and rising damp problems also movement of retaining walls that the owner was not aware of, although he and his wife had owned the property for over 30 years.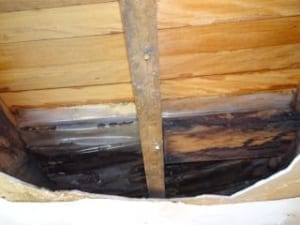 Exposed balcony extending over a sub-floor bedroom allowing seepage and rot of the ceiling lining and Timber below.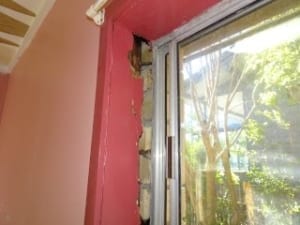 Seepage from lack of flashing of a window above causing rot to part of the internal wall also window frame. The owner was not aware of what was causing the problem, the report highlighted the severity of the problem, cause, also gave advice on most economical way of rectification. With expert advice he was able to carry out the rectification himself, saving a great deal of money.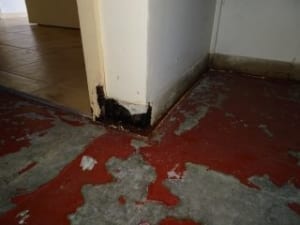 The owner thought that rotting of the sub-floor internal wall framing was caused by seepage, in actual fact it was caused mainly from rising damp, due to lack of a plastic membrane below the slab. An economical way of rectifying the problem of seepage or rising damp to the sub-floor area was recommended to the owner. This recommendation would cost considerably less than what others had recommended, without them addressing the problems of rising damp and rotting timber of the sub-floor area.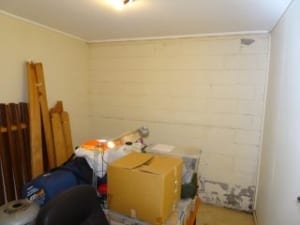 Considerable bulging of a concrete block retaining wall caused by large volume of soil creating pressure against the wall. Due to the movement it is highly unlikely that the wall had been reinforced in any way (during construction). The owner was not aware of this serious and very expensive problem until the pre-sale inspection was carried out.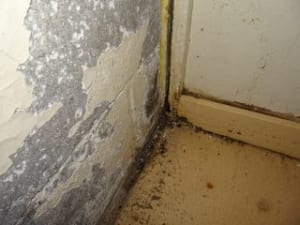 Seepage through a retaining wall from lack of appropriate drainage and waterproofing during construction. The owner was quoted in excess of $35,000 to rectify this problem (dependent on unforeseen problems and type of soil also possible relocation of plumbing). A more economical solution was recommended by the building Inspector in the Pre-sale report.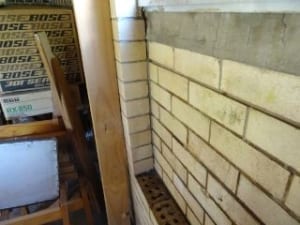 Considerable bulging to single brick wall that is retaining soil. Any brick wall supporting large volumes of soil must be appropriately engineered, reinforced and concrete filled. Single brick walls are not suitable for retaining large volumes of soil. The owner was not aware of this serious problem. Once again an economical solution was recommended.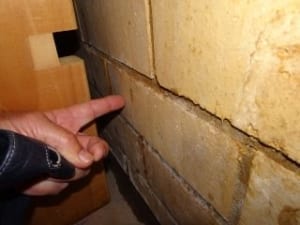 Large gap between the brickwork and timber gives you a gauge as to the severity of the problem.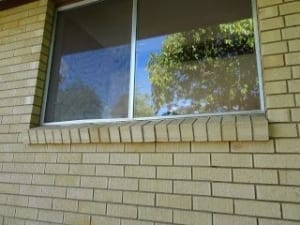 Bowing to the majority of aluminium window sills were restricting opening of the windows. The owner was not aware of problem or cause which was noted in the Pre-sale report with recommendations on rectification.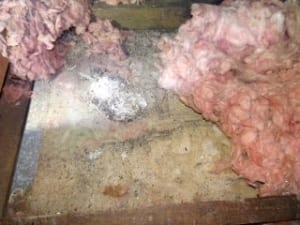 Damage to ceiling lining from a roof that the owner recently paid a professional to fix, obviously not properly. The roof exterior and interior was checked by the building inspector with recommendations on appropriate rectification, that was not carried out by the roofing contractor.
Note: The purpose of this pre-sale was to inform the owner what problems were with the house, how severe, prioritise the problems and make economical recommendations on rectification. So he and his wife could consider whether to rectify or sell the property. Also what required immediate attention and quotations. Instead of speculating about the problems also having potential buyer's inspectors give their opinion, they now know what they are up against and can make an informed decision also peace of mind in having the building Inspector available to them for advice.